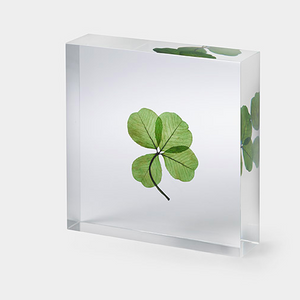 Selected by areastore
Four-leaf clover Lucky Object Square
Regular price
269,00
0,00
Four-leaf clover cast in square acrylic - lucky object
The most delicate four-leaf clovers cast in acrylic- the perfect gift for that someone who could use a little bit of extra luck and fortune. All four-leaf clovers are real, and therefore varies in size, shape and colour - all clovers some with a small authenticity certificate.
Sizes;
Small: 3 x 3 x 1,2 cm
Medium: 6 x 6 x 1,4 cm
Large: 8 x 8 x 2 cm
X-Large: 10 x 10 x 5 cm
Made in France. Can appear with small scratches on the bottom - it is a handmade product.
---
---
OTHER LOVELY GOODIES!