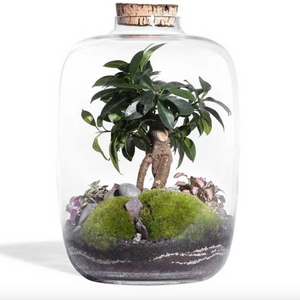 Niwa
Niwa - Chiara Small Terrarium
Regular price
1.699,00
0,00
Niwa - Chiara Small Terrarium
SKAL HENTES I BUTIKKEN 
Denne fantastiske glasklokke med corck prop har et lille bonsai træ og en fittonia i. 

Terrariet skal have dagslys, men ikke direkte sollys. Der er tale om en biotop, et lille økosystem som virker ved fotosyntese. Inde i klokken er der den fugt og klima som er nødvendigt for at planten kan leve, den skal endda ikke vandes mere end 1-2 gange om året.

Med planten følger en vejledning med tips til den idéelle pasning af dit nye terrarium. 
Størrelse: 25cm x 36cm
Med Niwa har du mulighed for at nyde et stillbillede af naturen uden vedligeholdelsesbekrænsninger. Alle glasbobler er unikke og håndlavet i Paris. Ved brug af hun nogle få tips kan du værdsætte skønheden i en miniverden under glas. Niwa er fætter til den originale Green Factory, men med deres elegante udtryk og fine former kan du sagtens mixe og matche de to brands. 


Vores lager af disse terrarier varierer meget, så ring inden for at være sikker på at vi har lager af den ønskede model.
Bemærk: Vi sender ikke denne vare- den skal hentes i butikken på Store Kongensgade 73 i København.
---
---
OTHER LOVELY GOODIES!